Did I tell y'all I got a job? I'm working part-time in an adorable little activewear store in a ritzy, fancy shopping center/part of downtown Houston. Anyway, there's a J. Crew, an Anthropologie, a Sprinkles and a PaperSource all within walking distance of my work. Basically it's D-A-N-G-E-R for my wallet and paychecks.
I needed sunglasses for my drive home after my shift yesterday, so I popped into Anthro because they have inexpensive, cute ones. Obviously I had to look around a bit, and there is some
seriously
adorable stuff available right now. I could have bought everything.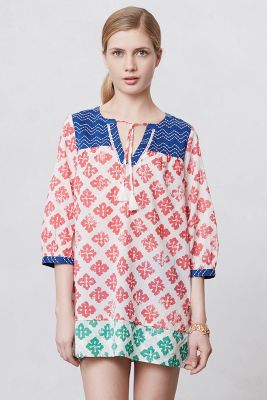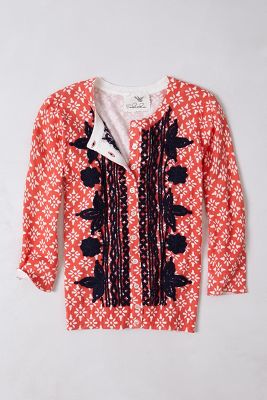 Primary Cardigan
: such pretty, intricate embroidery! Navy + coral is such a perfect combination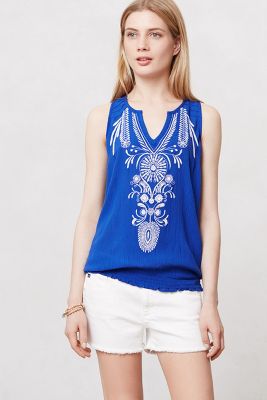 Stitched Ionia Tunic
: obviously embroidery and I are having a major moment. The picture doesn't do this embroidery justice at all, it's so beautiful in person and the purple is so rich and saturated. Love.
Windward Dress
: I may have actually gasped when I saw this dress because it is SO cute
(which is embarrassing)
. I'm definitely not one for overly themey outfits, but I am so drawn to this dress. It's adorable and made of such thick, textured fabric.
AG + Liberty Emma Romper
: in pictures, you can't tell, but there's a very light floral pattern on this romper. It's extremely subtle, which I like, but keeps the romper from being a plain chambray/denim romper. And it's so soft!