Lately I've been obsessed with semi-sheer, silky tops.
It all started this summer when I first held an Equipment blouse in my hot little hands. Y'all, I fell hard. Sometimes silk blouses can be too slippery and silky (ha) for my liking, but Equipment's are more of a washed silk rather than a charmeuse or chiffon...basically they're like heaven in a fabric and now I have an Equipment blouse high (very high) on my list of Wants.
Anyway, since Equipment is a bit out of my price range right now, I've been looking for more affordable substitutes...and I've found quite a few. Not all of these tops are silk, and some are more sheer than an Equipment top, but they're fluid and drapeable and give off that easy, relaxed, chic vibe that I always strive for.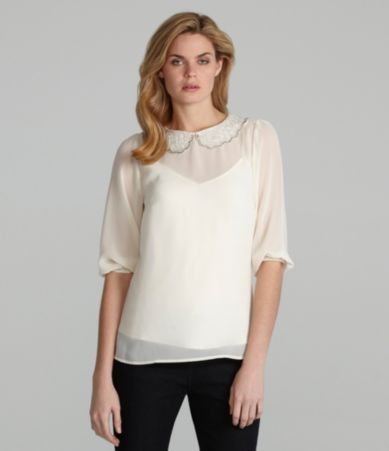 1.
Grazia beaded collar top
: I have this, and I love it. I'm not a huge fan of the ivory cami underneath, so I plan on switching it out for a nude one, but the beading on the collar is different and so pretty.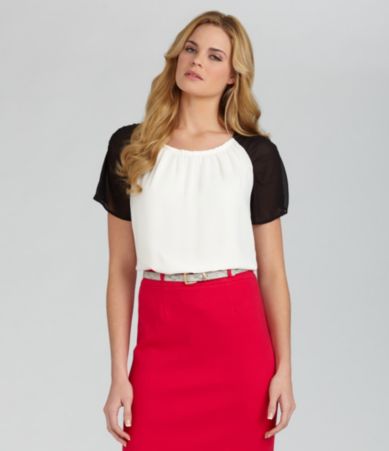 2. Louis sheer-sleeve blouse: I have this one as well, and it's so pretty in person. The sleeves are just the right length and the sheerness makes the top more special. It's so versatile as well!
3.
Lucerne Piping Blouse
: I love the contrast color piping on this top...fun without being overwhelming or obnoxious.
4. My very favorite of my recent blouse purchases isn't available online in any of the pretty colors available in-store, which is weird, but it's a long 2 pocket blouse from Target...I bought it in both mint and ivory, but it also comes in a beautiful poppy/coral color that I'm seriously considering buying as well. (
this
is a more expensive version...the Target one is practically a direct knockoff!)
5.
Madrid chiffon blouse
: Orange + navy? Perfect for showing some Auburn school spirit at work or when I'm not able to actually be in Auburn for games!
7.
Elsie top
: The eyelet detailing around the neck KILLS me. I'm so obsessed with this top, it's not even funny. This is also very high on my Wants list (in both colors...)
8.
Austin top
: I love the pastels that this top comes in. I'm leaning towards the yellow for myself, since I think it would be so perfect with gray pants or white jeans or even a brightly colored skirt.
9.
Capri stripe blouse
: Of course, how could I not end this roundup with an Equipment blouse, especially since I have a full paragraph about the fabric in my intro? I love everything about this blouse: the cut, the chunky stripes, the contrast placket and collar, the color...basically this is Kate in blouse form. NEED.
What do you think--are you as into silky tops as I am?
Also: thank you for all of your sweet comments and good wishes for my interview yesterday, I really appreciated them! I think it went well, so we'll see! Keep your fingers crossed! xx