It's finally March, and it feels like half of the world in on Spring Break right now. I alternate between being sad I'm not on the beach with all of my friends and being happy that there's not a million pictures being taken of me in a swimsuit.
I am a bikini girl, but lately I've been loving one piece swimsuits. I think there's something a little sexy and sophisticated about not showing everything off, and if you spent your winter eating more Thin Mints than worrying about looking thin (like I did...), then it's great to have a suit that covers and camouflages any insecurities but still looks fashionable and cute.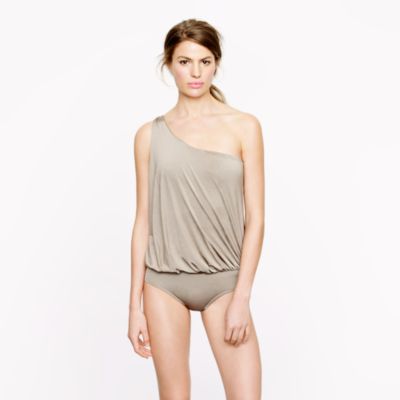 Blouson tank
, J. Crew: I haven't tried this on, but I bet it's super flattering. The blouson top hides any imperfections you may have, but the one shoulder strap shows off your shoulders. And I bet you could toss a maxi skirt on over it and head straight from the beach to lunch...win-win. I love the fuchsia!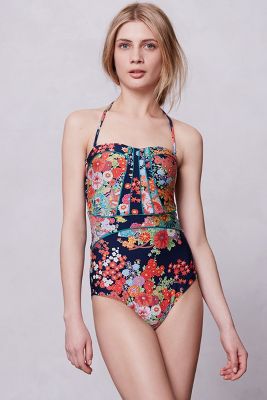 Kimono Floral suit
, Anthropologie: I really like the floral pattern--it hides any lumps or bumps you may have, but is still fun and summery. The waist detail also creates a waist, if your waist is less defined (like mine).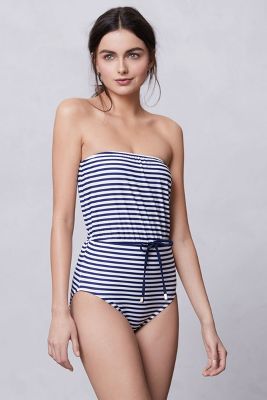 Lovey Jumper one piece
, Anthropologie: This suit just looks super comfy. The tie makes it a little sporty, the blouson detail hides a tummy, and the strapless top means no strap marks...all of which are good things in my book!
Ruched Halter maillot
, Anthropologie: So sexy. The neckline is very flattering and the cutout shows just a hint of cleavage but still is pretty covered up. The ruching is also super flattering.
Noelle Sunburst Print Resa
, Anthropologie: I love these colors together. The coral is so springy and unexpected with the lavender, but the aqua waistband gives you waist definition. This suit has a little bit of everything--a little bit of a blouson top, strapless with a removable strap, a defined waist, modest-cut legs...it's a winner!
What do you think? Are you liking this one piece trend like me, or are you more of a bikini fan? I can't decide!