Specifically wedding gowns.
I'm not getting married any time soon (I'm not even dating anyone!), but I've just been obsessed with looking at wedding gowns and dresses recently. Anyone who knows me knows that I have a
slight
obsession with weddings. Do you know that one episode of Friends where Monica is planning her wedding and she has that binder full of all the different scenarios that she's liked over the years? Well, I'm not quite that bad, but I definitely have Ideas for my wedding.
Back to dresses. I like all of these dresses for different reasons, and I think all of them are so beautiful and classic and so
me
.
Ortensia gown
, BHLDN: The back detailing on this absolutely kills me. The front is relatively sedate (although the deep V is a touch low for my taste), and then the back is so elaborate...this is just stunning.
Rubie Joe
gown, Heidi Elnora: the floral detailing on the shoulders is so delicate and pretty. I love the illusion netting neckline as well, so feminine. This is a bit more embellished and ethereal than my typical style, but it's just
so
pretty.
Powell
gown, LulaKate: the striped organza skirt is just adorable. I'm obsessed. I don't even really like strapless dresses, but I just cannot stop thinking about this one.
Ella
gown, LulaKate: simple but still elegant and beautiful. The embellished waistband is so gorgeous and the perfect amount of bling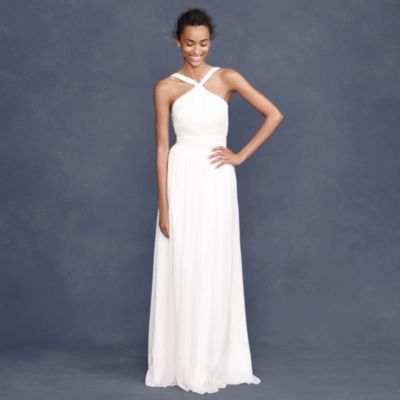 Sinclair
gown, J. Crew: J. Crew always nails the simple elegant bridal look. This is my favorite wedding dress because it's everything I look for in a gown: sleek skirt, comfortable fabric, interesting/flattering shoulder detailing, waist definition.
What do you think? Are you as into wedding gowns as I am?