There's been a lot going on "behind the scenes" over here, but the biggest change is that I'm staying in Atlanta. I've accepted a full-time job here and will slowly begin settling into a new routine and a more permanent life. I am so ready!
Since everything was so up in the air re: jobs and staying in ATL, I haven't bought any furniture for my apartment yet, except for a bed. So now that things are more permanent, I'm ready to commit to furniture and FINALLY move things into my apartment for real. I don't even think I can put my relief/readiness into words...
I've been scouting out furniture for a while now, but I'm seriously one of the pickiest people when it comes to putting something in my house. I want it to be perfect and exactly what I've been envisioning...and easy on the budget. I have an idea of where I want things to go in my place, what I want to do and where, and what sorts of things I want to have in my house.
If you take a look at
this Pinterest board
of mine, it's pretty clear that I'm drawn to creamy neutrals, lots of white, lighter-toned woods, airy spaces, pops of bright colors and classic lines. I've used those criteria to narrow down my selections when searching for the perfect pieces to add to my place.
A few things I have my eye on...
Campaign Desk, World Market
, on sale for $180: I have a little weird space next to my patio door that's where I envision my desk going. How cute would this desk be with a mercury glass lamp, a white pitcher of flowers and a bright (I'm thinking coral? turquoise? navy?) chair!
Hemnes 8 drawer dresser, IKEA
, $299: I had this dresser in my apartment in college and l-o-v-e-d it. It's big enough to hold all of my clothing but isn't so big that it's overwhelming. And the quality is top-notch.
Carmen Chair, Pier 1
, $600: Way more than I'm planning on spending, but I love the lines of this chair. I'll probably find something similar but more reasonably priced!
Upholstered Headboard, Meijer
, $330: I definitely want an upholstered headboard for my room.I think headboards just make a room look more "finished". Plus I spend a lot of time sitting up in my bed and a padded headboard is definitely more comfortable than the wall!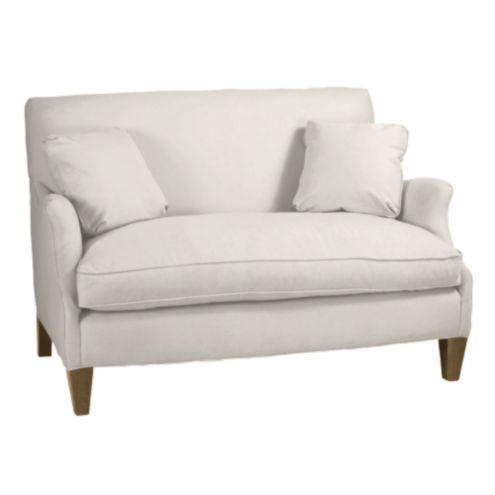 Hudson Settee, Ballard Designs
, $1,050ish: I go back and forth on wanting a full-size couch or a smaller "settee" and a few armchairs. I definitely know I want something on a more dainty scale than a massive sectional, so I really like the look of the sofa above...
Everything in my apartment has to be able to withstand little cat claws and a sometimes-overly-hyper cat...nothing too delicate, precious or breakable! I'm obviously not going to purchase everything I have listed above, but I'm excited to start searching on Joss & Main, RueLaLa, sale sections and the outlets!