I don't know about where you are, but there's an ever-so-slight whisper of fall in the air here in Atlanta. It feels like every day I've been here has been rainy and cool, which is so unusual for August. I'm torn between wanting to squeeze the last bit of wear out of my summery clothes and wanting to break out the sweaters, riding boots and long sleeves.
Considering J. Crew came out with the majority of their new fall things yesterday, I'm right where the retail world wants me to be. I'm swooning over basically everything JC did, but most especially these things...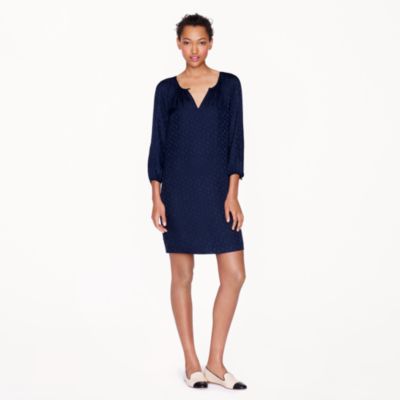 Tonal Paisley Dress
: do I own basically a million variations of this style dress? Yep, which is exactly why I need another: they're super easy to dress up or down, you can belt it or not, it's equally cute with boots or heels, and it's so easy. Done.
Drapey Crepe Henley Tunic
: all of my favorite clothing words in one piece! But seriously, this top is the definition of a classic. It's seasonless (I wore versions of this top all summer), will literally go with everything (jeans, leggings, skirts, dress pants, etc), and comes in the most versatile, basic colors. I've already decided that this will be added to my closet in at least one color...but really all 5 would be great.
Collarless Popover in Indigo Oxford
: kind of just a cooler, different take on the now-ubiquitous chambray shirt. I'd totally wear this with skinny cords and riding boots or even tucked into a pencil skirt.
Merino Pocket Tunic
: I waver between thinking this would be the absolute cutest, comfiest thing to wear to work over skinny ponte pants and thinking that it could be the frumpiest thing ever. Such an endorsement, right? But picture it with leggings and moccasins for a day off, and it's so much cuter. These are the dilemmas I struggle with.
Pixie Pant w/ Leather Tuxedo Stripe
: obsessed. I would never define my style as "edgy", but I think these pants have just the right amount of edge to put a whole new spin on everything in my closet.
Keyhole Top
: I'm not one to shy away from a silk tank, because they're so versatile and wearable. The keyhole adds just a touch of sexy but is still work-appropriate (for my office, at least). And the pale seascape color is just gorgeous.
Floral Diamonds Scarf
: you'll find me wearing a scarf approximately never, but I love the colors in this one. I picture it over a gray long-sleeve tee dress with black flat boots, or with a white tee and jeans.
Striped Excursion Vest
: J. Crew did that herringbone vest last fall that instantly sold out and then was pictured on a billion different style blogs...I loved it from the minute I saw it but never pulled the trigger and immensely regretted it every time I saw a picture of it. THIS version is striped, which means I definitely need it.
What about you--are you ready for fall or are you still clinging to that last little bit of summer?